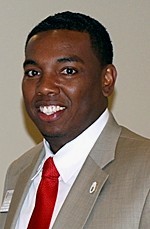 Larry Stevens, Assistant Professor of Management
Mr. Stevens is also the Director of the Winthrop Region of the SC Small Business Development Centers located in the College of Business, 118 Thurmond. Funded by the SBA and the State of SC, and in partnership with Winthrop University, the SBDC assists business owners with a variety of free services, while also providing start-up information and assistance for aspiring entrepreneurs.
Office hours by appointment only
Appointments to meet with Mr. Stevens should be pre-scheduled by telephone or email, since he is frequently out of town on Small Business Development Center business or meeting with SBDC business clients. Contact Mr. Stevens by email or call (803) 323-2283 to schedule conference time
SYLLABUS, Spring 2016: Management -- A Focus on Leaders
MANAGEMENT a Focus on Leaders

NOTE: To Open without saving these documents to your computer, use Firefox or IE browsers. Chrome requires you to save before opening.