Shakespeare
Key terms: Globe Theatre, groundlings, government and self-government, counterfeiting vs. self-fashioning
Born 4/23/64; married Anne Hathaway at age 18 (she was 26).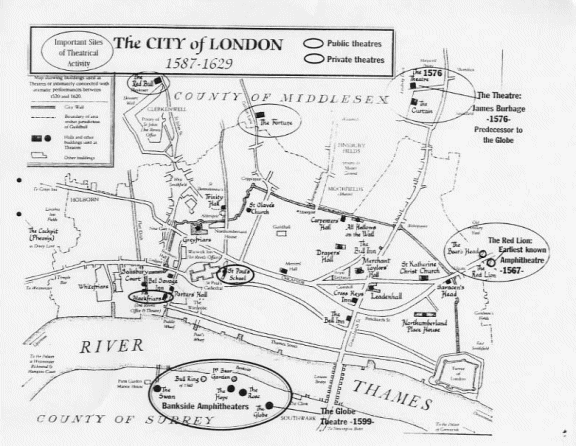 By 1592 known as an actor and playwright of histories in London; by end of 1590s the most famous playwright of his age.
By 1597 owns the second biggest house in Stratford ("New Place" ) so obviously making enough $$ to invest. A great website with tons of pictures of the places Shakespeare knew in Stratford can be found at http://www.edu.nykoping.se/tessin/utb/inst/engelskinst/shakespeareen/shakeen.htm.
1600-1610 the decade of the great tragedies and the late tragicomedies.
Sonnet cycle probably written in the early 1590s but not published until 1609.
Dies at home in Stratford in 1616 a wealthy man.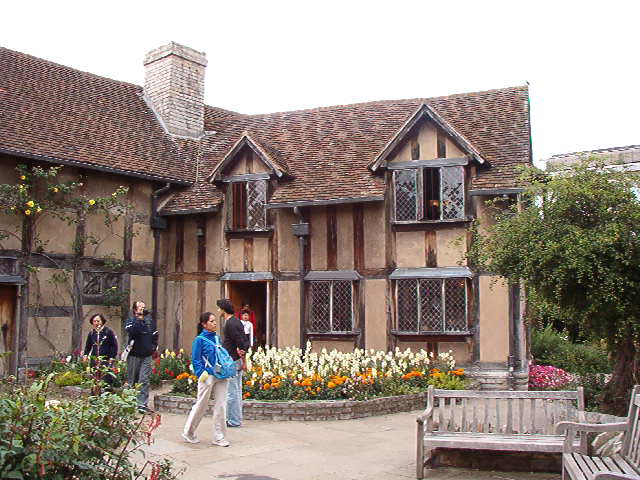 Dramatic Unity: Note how well Shakespeare does with only a few characters (much smaller cast than in most of his plays). Unity of time (two days), of place (Cyprus), and of action (no sub-plots).
Blank verse—the great natural cadence of English poetry. Unrhymed, enjambed lines of iambic pentameter (no couplets as in Chaucer). This is blank verse in the hands of its greatest writer and the effect is just stunning.
Information on women and gender in Early Modern England--a good overview: http://www.wwnorton.com/nael/17century/topic_1/welcome.htm
Shakespeare's Globe Theatre has been reconstructed on the banks of the Thames in London, about 200 yards from its original location. This is a shot taken from my seat in the third gallery showing the groundlings starting to congregate in the Pit, in front of the stage as the actors/musicians begin the pre-show festivities. The picture below is from the 2000 season, and shows not only the full stage but the boxes on the balconies where privileged guests sat.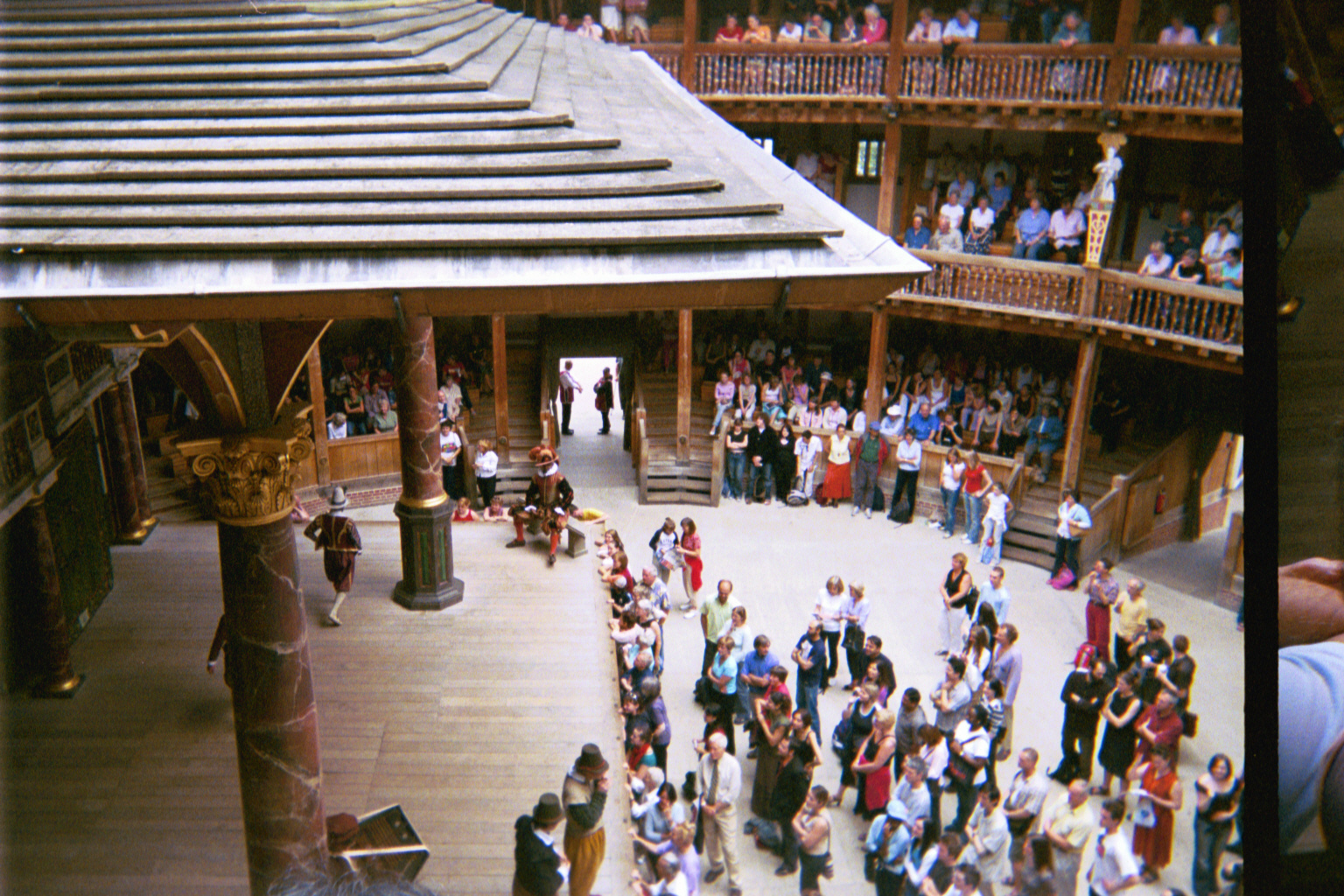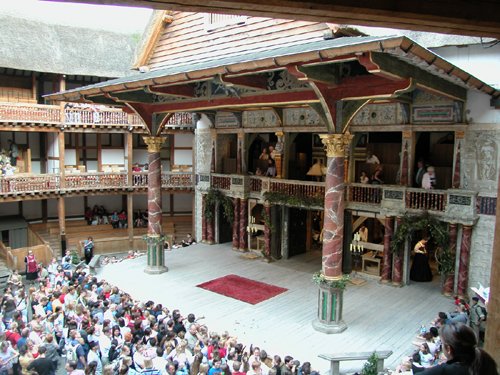 As you can see, the stage is very flexible; the red rug covers the "hellmouth" that is used for mysterious entrances and exits, and the bays at the back can be opened or closed to show inner rooms (for instance Prospero's cave). Shakespeare is thought to have invented this and used it for the ghost of Hamlet's father to appear; that's why you'll also hear it called "the Hamlet trap."

What only the groundlings and the actors can see is "the heavens," the roof under the stage, which at the new Globe is really elaborate and beautiful: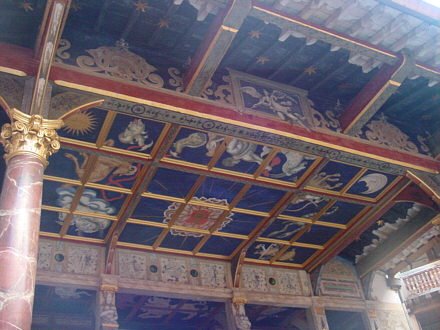 The Globe is a 20-sided building with three-storey galleries around most of it. This cutaway drawing shows how the actual building itself worked: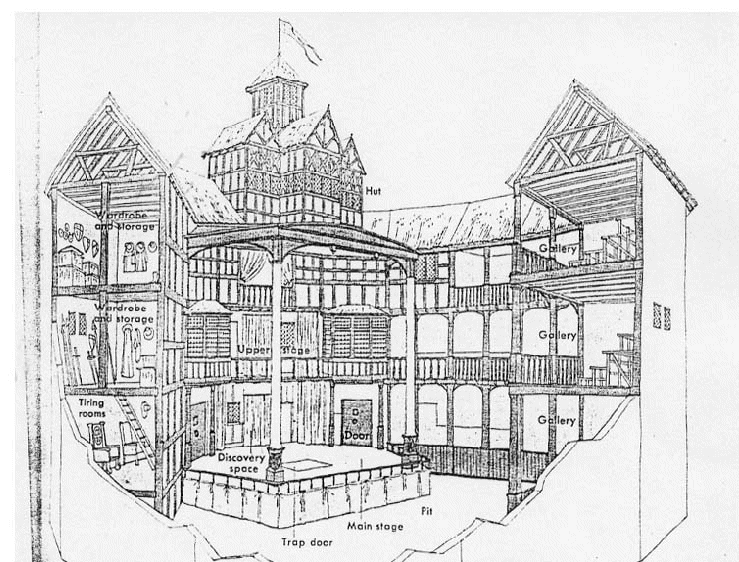 Today's Globe has seats where the "wardrobe and storage" areas and "tiring room" are on this plan, because there is a large rehearsal/workspace building attached to the back of the theatre. Shakespeare would have approved: playwrights and actors made their profits from the number of tickets sold, so increasing the seating at the theatre would have been profitable to him!
You can find out more at the PBS Shakespeare site: www.pbs.org/shakespeare.