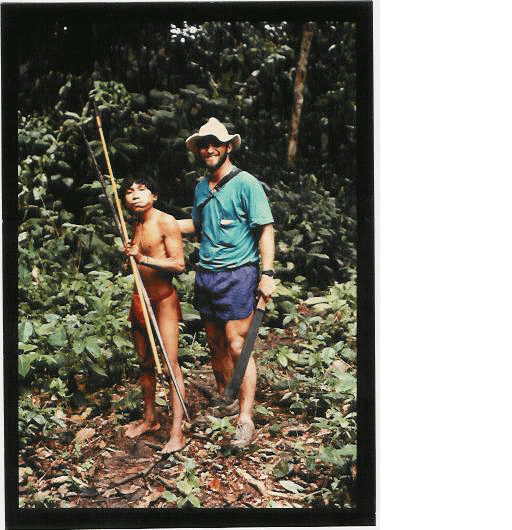 Dr. Richard Chacon next to an adult Yanomam÷ man hunting with bow and arrow
near the village of Poremababopateri. Photo by L. Sugiyama.
Dr. RICHARD JOHN CHACON
Interests: Human Behavioral Ecology, Subsistence Strategies, Natural Resource Conservation, Warfare, Belief Systems, Ethnohistory, Medical Anthropology, Development of Social Complexity and Globalization; Indigenous Peoples of the Americas.
Fieldwork: Dr. Chacon has conducted anthropological research among the Yanomam÷, the Yora and the Achuar (Shiwiar) of Amazonia along with the Otavalo & Cotacachi Indians of the Andean Highlands.
Courses taught
Anthropological Theory

Native Peoples and the Environment

Native Peoples of South America

Ancient Civilizations of the Americas

Anthropology of the Andean Highlands

Amerindian Warfare and Ritual violence

Cross Cultural Perspectives

Language and Culture

Introduction to Cultural Anthropology

Introduction to Physical Anthropology
Publications:

Dr. Chacon's recent books include:

The Ethics of Anthropology and Amerindian Research: Reporting on Environmental Degradation and Warfare.

Eds., Richard J. Chacon and Ruben G. Mendoza. New York: Springer. 2012.

For more inofrmation on the book please visit:

http://www.springer.com/social+sciences/archaeology+%26+anthropology/book/978-1-4614-1064-5?changeHeader

North American Indigenous Warfare and Ritual Violence.

Eds., Richard J. Chacon and Ruben G. Mendoza. Tucson: University of Arizona Press. 2007.

For more information on the book please visit:

http://www.uapress.arizona.edu/util/show_search_result.php?file=%2F%2FBooks%2Fbid1872.htm&terms=chacon&case=Insensitive

Latin American Indigenous Warfare and Ritual Violence.

Eds., Richard J. Chacon and Ruben G. Mendoza Tucson: University of Arizona Press. 2007.

For more information on the book please visit: http://www.uapress.arizona.edu/BOOKS/bid1871.htm

The Taking and Displaying of Human Body Parts as Trophies by Amerindians.

Eds., Richard J. Chacon and David H. Dye. New York: Springer. 2007.

For more information on the book please visit:

http://www.springer.com/social+sciences/anthropology+%26+archaeology/book/978-0-387-76983-7

The Alto Corrientes Health Care Fund

Dr. Chacon has founded a non-profit fund to help the Achuar (Shiwiar) people meet their medical needs. For more information on these efforts visit:

Dr. Richard J. Chacon

Department of Sociology and Anthropology

Series Editor for Springer's Anthropology and Ethics

Winthrop University

Rock Hill, SC 29733

Office: (803) 323-4656

E-mail: chaconr@winthrop.edu